Office of Regional Ministries for African American Affairs

Who WE ARE


The Regional coordinating Committee of African American Affairs (Pacific Union Conference) includes regional departmental leaders of Arizona, Central, Northern, Southeastern and Southern California, Nevada and Utah conferences. A pastoral represenatitve, a youth ministry leader and a union administrator are invited guests. Each departmental director has the responsibility of overseeing church leadership including pastors, associate and assistant pastors, hired Bible instructors and support staff. The most important role of the director is to love God, love people, maintain his/her personal relationship with Jesus Christ and build the kingdom.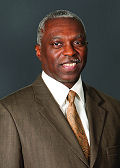 Virgil S. Childs, director

Coming from the Northern California Conference of Seventh-day Adventists, he has served as an assistant pastor with the Market Street church (Oakland), senior pastor Pittsburg (Pittsburg), Elmhurst (Oakland), Mayfair (Stockton), Market Street (Oakland) churches.
Elder Childs served for 10 years as director of African-American Ministries, Inner City Ministries, Men's Ministries and Prison Ministries for the Northern California Conference. On February 1, 2016, he began serving as the Director of Regional Affairs for the Pacific Union Conference of Seventh-day Adventists.
Community-minded and focused on collaboration, Elder Childs is a member of the Oakland Faith Advisory Council and is a recipient of the 2015 Pastor of the Year award, presented by "One Thousand Mothers Against Violence" based in Oakland, Calif. He has conducted numerous Prophecy seminars, evangelistic meetings, conflict resolution workshops and enjoys teaching religion at elementary and high schools.
He and wife, Patricia Woods- Childs, are the parents of three adult children and have three grandchildren. Elder Childs has a passion for connecting communities with Christ.
Phone: 805-413-7388


High resolution photo of Virgil S. Childs

Please use the right menu to browse resources available through the Office of Regional Affairs. Thank you for visiting our site.
---
Sali Butler, MPH, administrative assistant

Both my parents were "preacher's kids" so there is a legacy of serving God and His people. I serve the Regional Directors Coordinating Committee alongside of Pastor Virgil Childs by providing technical support, managing the Message campaign, Capital Reversion funding, North American Division Graduate Scholarship applications, Three-Way Scholarship applications, Winifred Stevens Foundation funding, and other funding resources; all to promote the mission of the church and impact our 65 plus African American churches in the Pacific Union Conference and the communities they serve. I assist with coordinating events for Bible instructors, laity leadership training and the annual pastoral retreat. Respond to inquiries from leadership of 64 churches, pastors, Bible instructors and church members. I have been in the Office of Regional Affairs since 1999.


I earned a bachelors degree from the University of South Carolina majoring in Journalism and Mass Communication (Emphasis Advertising/Public Relations) and a Masters of Science in Public Health from Walden University in 2012. I'm a Master Trainer for community health workers focused on helping faith-based organizations develop sustainable health promotion programs to prevent and reduce chronic disease among the body of Christ and the communities they serve.
My time is shared with the department of Communication & Community Engagement.

Phone: 805-413-7388
Save
Save